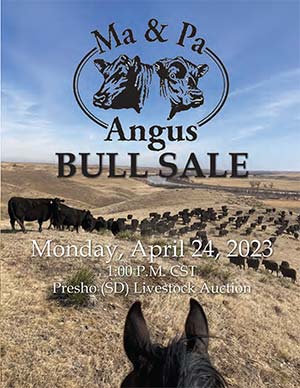 Ma & Pa Angus Bull Sale
Monday, April 24, 2023 • 1 p.m.
Presho (SD) Livestock Auction
Selling 50 Registered yearling Angus bulls.
More information will be posted as available.

Welcome!
There are more places to buy a bull than there are places to fill up your pickup. Thank you for taking time to stop by and consider Ma & Pa Angus. We take a no-nonsense approach to raising registered Angus cattle in a commercial cattle environment. Culling is year-round. If the cows aren't pregnant in the fall, they go to town - even after just one calving season. Our cows calve in a river hills pasture and are expected to protect and nurture that calf to a lucrative weaning weight. No creep feeders allowed.
Sincerely,
Steve, Deb, Sage and Shilo
Request Form